Bar & Section
Binding Machine
KNCA
The KNCA Binding Machine is designed for binding large bundles of bars and sections, also referred to as master bundles. The bundles can be round or square, and consist of everything from rebars to h-beams.
Fast and reliable binding of master bundles
With its proven high availability and short cycle-time, the KNCA stands out as a fast and reliable binding machine. Therefore, it's no surprise that it is the preferred choice in rolling mills all over the world.
High quality bindings
The tensioning and twisting operation secures a firm, tight binding around the bundle.
High operational accessibility
The KNCA is designed to make operation and maintenance as ­hassle-free as possible.
Proven technology
The KNCA is a reliable workhorse in plants all around the world, with high availability.
Variable binding wire width
The machine can use binding wire of different diameter (6.0–8.0 mm) without any modifications.
Low maintenance
Few wear parts and easy access to service makes the KNCA very low-maintenance.
Robust design
Like all machines and handling systems from Sund Birsta, the KNCA is durable with a long life-span.
Operations of KNCA Binding Machine
The KNCA Binding Machine is designed for binding large bundles of bars and sections. It's robust, made to perform in harsh industrial environments, giving the machine very high availability.
It also requires low maintenance, all of which makes the KNCA capable of meeting the requirements of most producers of large bundles, both in new applications and in existing plants.
As a bundle arrives at the binding position, the wire is already pre-fed into the wire guide system, which proceeds to close around the bundle.
The binding wire is tightened, wound together and cut, achieving a tight binding of the bundle.
The machine can also perform double binding, either as two tight laps or as one tight and one loose lap.
Round and square bundles
The KNCA can produce both round and square bundles, making it a very versatile master binding machine.
Exceptional tightening
By opening flaps one after another as the binding wire is stretched around the bundle, the wire can be wound exceptionally tight around square bundles.
Wire guides that can be opened
Thanks to the wire guides being able to open, the KNCA can receive material both from the side and the front.
Carriage
By adding a carriage, the KNCA can be moved between several binding positions.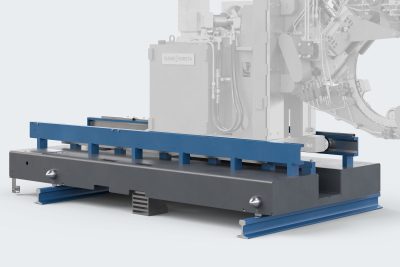 | Technical specification | KNCA |
| --- | --- |
| Length (mm) | 4800-5900 |
| Width (mm) | 1500 |
| Height (mm) | 2700-3200 |
| Binding wire (mm) | Ø 6-8 |
| Bundle size (mm) | Ø 150-1050 |
| Binding time (s) | 5-16.5 |
| Net weight (kg) | 3100-3400 |